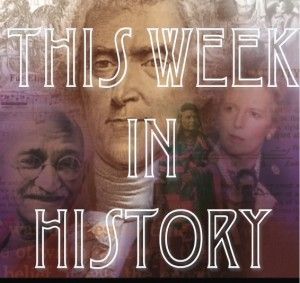 THIS WEEK IN HISTORY
!!! F A N T A S T I C resource. Rachel DeMille from
A Thomas Jefferson Education
(TJed), has put together an incredible weekly email FULL of wonderful links and information to help your family dive into history.
Over the last few weeks I've been receiving emails from Rachel DeMille that have made me wonder why I never tried this before! We love the TJed philosophy, their focus on leadership education is what caused us to commit to homeschooling 6 years ago, it just made sense! The TJed focus is more on mentoring/sharing information with your child, as opposed to a particular curriculum. Here you really get see how to put this method into work by taking one topic a day and really exploring it. Through This Week in History you and your children are introduced to cultures, foods, people, math, science, reading, poetry, history all by something(s) that happened related to that on a particular day that week.
You can see samples of This Week in History
here
.
Another great thing about this program is that with their archives and website options you can choose WHEN you'll get the emails, as well as research other days so that you can better prepare for the week or special day ahead.
I will definitely be adding This Week in History to our budget. I find that it's a wonderful gem because there's a collection of information all put together in one spot and presented in such a way that I could only dream of! With so many young children, and few hours of sleep, I don't really have the time to research the way that I'd like to. Here, Rachel DeMille has shared her "mission" with us and has done the work for me that I could only hope to do on my own.
As we head back into the school year here in a few short weeks I look forward to being able to scale back and just play/enjoy subjects. One days email was especially fun... it talked about a festival in Japan that involved tying streamers to trees, and that totally explained what I had seen just days earlier! It also involved links to origami instruction websites and maps of Japan. I just so happen to take that lesson to heart :-), I was living it and seeing it firsthand!
Having access to This Week in History taught me a lot about so many things that I didn't expect and it got me excited to see what was coming next. We had fun conversations about San Francisco's streets this last week after my children saw a picture of a trolley car on my email. It sparked conversation about a trip I had taken there with my mom and sister 15 years ago. From there we had many questions to ponder that were placed as prompts, there were mazes/coloring pages, and links to more things to help explore the topic. This is what education should be! And here having it laid out for me is more than I could ask for.
For the price of $10 a month you can have access to all of the amazing work that's already prepared for you. To sign up for This Week in History you can go to the TJed Website
here
.
To see what other crew members are saying about TJed's This Week in History, you can go
here
.
**Disclaimer: I was given free access to This Week in History in return for my honest opinion. I have not received any other compensation and the opinions expressed are all mine.**