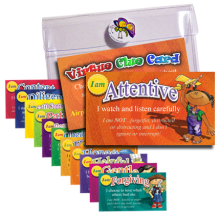 I'll be honest. I was really excited when I found out that we were going to review for
We Choose Virtues
.... and then I was a little disappointed when I got the product initially. I pulled out this tiny packet of cards and wasn't at all sure what to do with them! Over time they've become something that we actually look forward to spending time with. The package that comes is a set of cards (the size of business cards) in a plastic envelope that snaps shut. The cards themselves are high quality thick card stock, printed with bright colors, and the illustrations/design is really fun. My initial disappointment was over the fact that the cards were so small.... however, we still found great usage.
For example, there is a card that comes in that pack that suggests picking a virtue to work on for the day. I thought this was a good idea and then realized that not only was there a virtue and definition of what it is and what it isn't on the front, but that the backside extended a specific challenge for the child for that virtue. So, starting with day one I had one of my children pick a card and we would discuss it and try to work on the challenge for the day and I'd use the virtue topic throughout our day in both praise and correction. i.e. "Wow, you're being really diligent, thank you so much!" or "When we do '_______' is that showing self control?" I've really looked forward to each day and so have my children. They all get to take a turn picking a card throughout the week and eagerly await the next time they get a turn. Eventually I got smart and I grabbed a magnet that has a clip on it and my oldest now switches out the card of the day on the whiteboard that has our memorization things on it so we can actually see the virtue that we're working on so we can memorize the definition of the virtue too.
After having these cards, and not having any other connection to this company besides things other bloggers have said, I went off in search of more products from them along the lines of teaching virtues because of my experience. I think what has ended up really appealing to me is the fact that the definitions given of each of the virtues are what I want to teach my child. I enjoy that the children learn what being honest, diligent, obedient etc., is and are given examples of what it isn't in a straight forward and clear/kind way. I often find that companies or people teaching moral principles use scripture to condemn a child or focus too much on the idea that not acting in accordance with these virtues is sin. Yes, I understand that we're not perfect and that not following these guidelines is a sin, but I don't think we needs to be so negative with children and "talk them into" being good by striking fear within them. Anyway! Long story short, this product stays upbeat and is encouraging children along this path of learning moral character. I love that! I've since looked into getting larger poster of the virtues for my children as well as a chart that might help them get even more excited about this aspect of life that the are considering more closely.
I'm very happy that I got to review this product! Don't let the size fool you, this is a great addition to any home and it's portability may be even more helpful to families on the go! A quick reminder on the way to school or a lesson of some sort could make a big difference in how your children handles themselves on any given day! Every opportunity to teach our children should be seized and this is a great tool that will easily find a spot into your family's schedule!
You can purchase
We Choose Virtue Cards
for $19.99 from their website that can be found
here.

To find out what other crew members are saying about We Choose Virtue Cards you can go
here.
*As a member of the 2012 TOS Homeschool Crew I was provided a free copy of this product in exchange for my honest review of its content. I have not received any other compensation for the opinions stated here, and they were not promised a positive review.*