So... remember how I told you that Nathan and I were busy having fun testing out products?? In light of that, here's another review for you! (You'll get another one in 2 days too :-D)!
I was REALLY excited to get this product.... cause it's a game! I should seriously take a picture of our game closet for you, we definitely like a good game and add to that collection every year for our anniversary :-). Anyway! A game creator that I really enjoy is Reiner Knizia, and guess what?? This game is officially known as "
Reiner Knizia's Amazing Flea Circus
"! The box is even fun to look at!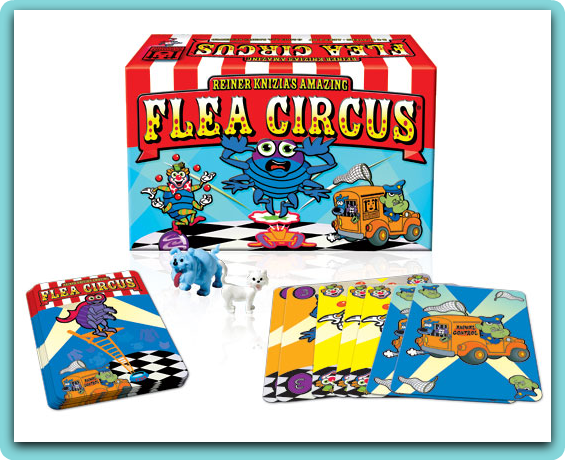 So? How does it play? Very simply... which is BEAUTIFUL! The suggested ages of play on Flea Circus are 6 and up and it is meant for 2-6 players. This game is a card game, but it has a little bit of a twist that makes it even more enjoyable for the little people (okay, maybe the adults get a kick out of it too)... we'll get to that! :-)
Upon opening the box you have the following contents:
*55 cards (An assortment of "attractions", "free tickets", "flea acrobats", and "animal catchers")
*20 rubber cats
*20 rubber dogs
*And of course, the rules... which consist of one piece of paper folded in half... like I said, the simplicity is nice!
Did you catch the rubber animals stuck in there?? Ha! That's what makes scoring (and playing) this game interesting. Dogs are worth 2 points and cats are worth 1.... don't know how I feel about the how assessment on the worth of each animal there, but that'll have to be for another post!
Flea circus literally takes about 10 minutes to play
and even my 6 year old caught on really fast. Once you know what each card does you're set! There's no other required reading as the cards are just pictures.

How do you play?
-Each person gets 5 cards in their hand and one at a time puts on a "show." A show is the pile that you start right in front of you to have dog and cat "spectators" come and watch.
I like that there's a "math" concept hidden here where children have to figure out how many of each animal they are going to get in order to have the right number of spectators around
. I.e. if my card let's me get 3 spectators and all I want is dogs in my pile, then I'm going to have to give a cat back etc. Or, I get 2 spectators this round... that means 1 dog or 2 cats right? And then towards the end of the game you find that you're having to do a lot more exchanging with the pile in the center to even get the proper amount because there aren't any of one animal any more, or not enough.
The game ends when all of the cats and dogs (that you got to dump into piles in the center of the table at the beginning.... my favorite part!) are gone. Then it's to counting up how many cats and dogs each person has to determine a winner.
My oldest son gave this game 2 thumbs up and his younger siblings are chewing at the bit to play. Personally I haven't started playing with my next youngest children because I can see how it could be a little confusing for them to think through, but honestly when it comes down to it all they'd have to do is put down a card and I'd just ask them if they want a cat/dog or combination. It wouldn't be a big deal. Who cares if they don't really understand what the cards mean? *laugh* After putting that into words I think we're going to have to play as a family today, I'm feeling a little guilty for not involving them sooner. In my defense though, I wanted to get my oldest's opinion free of "background noise." So
his favorite things are:

**The pictures on the cards (which I agree with, they're fun and bright colored).
**The cats and dogs (They do add enjoyment to the game).

Do I have any dislikes?
Not necessarily. I think I would prefer a little bit sturdier of a card, but they work the way that they are. There's also a few cards in this game that could cause, umm... a little friction. My husband and I played this a few times before my son ever got his hands on it and we quickly realized that a few cards/ways of play that allow a player to TAKE spectators from OPPONENTS could turn tables quickly and cause hard feelings etc. I don't think that's any reason not to buy it (I mean, what we normally play and are gearing our kids for are 30 min+ strategy games as well as games like chess.... pieces will be taken! Plans will need to be revised!), I'm just letting you know that this isn't just a kids game where there is no strategy or adversity :-D. It's really quite clever.
Would I recommend this game to you? Absolutely! It's great to feel like you can sit down and play a game with your child that they enjoy and that doesn't take up the whole table and/or afternoon. This is definitely a first pick for me when it comes to getting the question "Mom, will you play a game with me?" We can usually even get in 2-3 rounds.
The makers of this product,
R&R Games
, sells
Flea Circus on their website for $15.95.....
BUT
, as a special offer to you they are offering a 20% discount on all of their products through the end of the year!!!! The discount code to use on their website is
CREW20.
If you like a good game and have younger kids at your house, you'll enjoy this one!
**As a member of the 2011 TOS Homeschool Crew I was provided a free copy of this product in exchange for my honest review of its content. I have not received any other compensation for the opinions stated here, and they were not promised a positive review.**