Hi there! The latest obsession of my family is nature documentaries… (we don't normally watch much of anything, but we've needed lots of distractions lately and nature documentaries not only provide entertainment but they're also educational! :-D).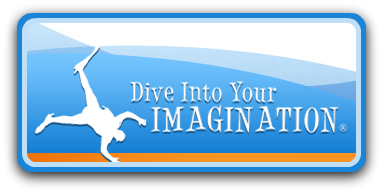 Annie Crawley
with the Dive Into Your Imagination company sent us a great ocean DVD for kids. I was slightly nervous at first to watch a show entitled "
Dive Into Diversity
", thanks to how the term has been used to push other agenda's, but with a little research I was soon excited with the opportunity. Annie Crawley's knowledge of sea life, and her ability to capture what happens under water with a camera, is pretty amazing. Not only did the DVD contain information perfectly suited towards children on the topics of sea life, but there were also segments that showed and explained the equipment used in the making of the film (scuba gear and an underwater camera…. which thanks to the video I now know works similarly to the eye, i.e. needing a pocket of air in front of it… no, I did not know that before, please keep your laughing to a minimum! *laugh*), as well as a look at how a musical score is made (WHAT A COOL JOB!). For your knowledge, diversity is addressed a like so: "Diversity means variety. It means differences in shapes, sizes, skills, and colors. Diversity in nature helps protect the balance that is necessary in the world. In the animal kingdom, animals rely on their distinguishing features in order to survive.
Some animals might be fast, while others are slow. Some might be long, while others are short. One might be purple, while another is green.
Can you think of one way that you are different from another person? This is diversity." Later in the same tidbit in the written material (which I talk about further down)... not the video.... it's briefly mentioned how there a couple different fish that are born one gender and then turn into another. That's all that's said, I'm not going to try to read too much into the mention of that... it's a true fact, so, that's that :-)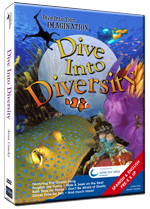 I LOVED the segment of the DVD that goes over sea life that are out at night. We were all pretty captivated by the amazing color show that happens underwater! I felt like we learned a lot and got to enjoy some great filmography. I'll definitely be buying the other DVD's in the series:
What Makes a Fish a Fish
and
Who Lives in the Sea?
Older kids may not enjoy these as much, but I found them interesting and so did my little guys. Personally I didn't need to see video of kids swimming etc., but I know younger children like the correlation between what they see and personal experiences.
Along with the DVD I was sent a link to the
PDF Educator Guides
that are meant as a companion for each selection. All of the guides are around 300 pages long and are full of additional information, pictures to color, activities, and additional photo's for grades K-6. As with any material, there is need to make sure that you've done your homework before presenting it to your children. The educational guides are not from a Christian perspective, but they're not really evolutionary either... on page 116 of the guide under "Imagination Value" the idea is to visit a kelp forest in your mind (which is a pretty cool idea), but then it says "Remember to give GRATITUDE to our Ocean... (all capitalization came from the guide there, nothing tweaked by me, so yah, I think Ocean with a capital "O" isn't what we'll be discussing :-). For us it'll be thanking our Heavenly Father, but I can't really blame the curriculum itself for those issues I suppose). These guides are also geared toward a classroom setting, but could easily be changed for a homeschooling environment... as said above. The introduction of new vocabulary and new animals with pictures to color is fun and I really like the projects.... I DON'T, however, like that they cater to "common core curriculum", but that's another story in and of itself, and doesn't really effect this guide from what I've seen so far (I'll let you know if something comes up in the future, but for now, what I see is easily adaptable and safe for your home).
The Dive Into Your Imagination DVD's may be purchased
here
for $19.95. There is also
FREE SHIPPING
for the month of June for our readers.
The guides are available as a
printed version for $299
(for the whole set of them) or as individual PDFs for $69.95. As a special for the Homeschool Crew and The Old Schoolhouse Magazine and followers Annie Crawley of Dive Into Your Imagination, she will gift you a set of PDFs with purchase of the DVDs. When you place your DVD order, just let her know in the notes that you are a Homeschool Parent!
I would definitely take advantage of the free educators guides by buying a DVD now. As packed with information as they are, I wouldn't actually buy them myself. I'm happy that I have them and I'll be using quite a few things again over the years, but the pricing is a bit steep for us, and I'm not 100% sold on everything in it enough to make the kind of investment that the printed matter or PDF's require. I'm sure it's not that big of a deal for a school district, but as a homeschooler who'd have to do quite a bit of changing here and there, I'd probably look elsewhere.... the DVD is great though!
To see what other Crew members are saying about this product please go
here
.
**As a member of the TOS Crew I was provided a copy of Dive Into Diversity and access to the educator guides free of charge in exchange for my honest opinion. I have received no compensation for this review.**