I can't believe how IN LOVE I've been with the products that I've been sent to review lately. I promise, my only compensation is being given the product to review and I am only asked to give an honest opinion of said product. So, with that disclaimer reiterated....
I LOVE THIS PRODUCT! Why do I love this product? That'd be because 1) There is no objectionable content and is straight forward and because 2) MY DAUGHTER LOVES THIS APP!
No, seriously, she BEGS to "play the letter game." There's no traditional "game" anything about the app, and yet she calls it one!
When you first download
Barchowsky Fluent Handwriting App
onto the iPad you'll see a colorful icon that says "Letters into Words." After opening the app you'll have the option to get more information about how the program works or to click on "choose a letter." Either way you'll find yourself with the first option of writing letter "u". As most writing programs start with letters that are not set up alphabetically, this one is no different. The "u" sits perfectly onto a curved pattern that the children learn and practice, so it gets to go first. The child is talked through the motions of the pattern and given audio cues as to what is happening (i.e. "down around and, down around and) which I think are great because it gives the child something to think about and visualize as they're later recreating the letters on paper.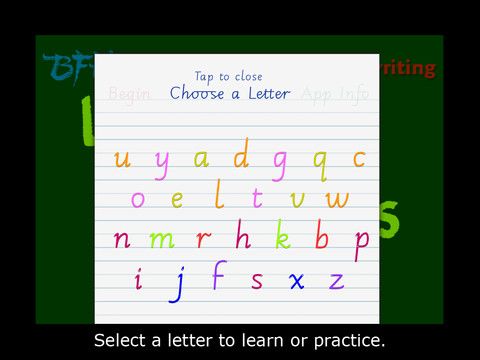 One of my favorite features about this program is that as the child "starts at the hole in the letter" and traces the pattern on the screen, whatever they're writing changes color as they follow the right way and makes a little ping sound and makes a "sparkle" when they finish. Perhaps that's what makes it a game for my daughter? I don't know! But I do know that she loves it and has a gigantic smile on her face at the end! Something about that sound and sparkle makes her all kinds of giddy.
This app can be purchased from the
apple store for $2.99
(which is also AWESOME).
To see what other crew members are saying about this product you can go
here
.
*As a member of the 2011 TOS Homeschool Crew I was provided a free copy of this product in exchange for my honest review of its content. I have not received any other compensation for the opinions stated here, and they were not promised a positive review.*